Data is the most crucial component of a computer. Laptops, desktops and other devices can be replaced. Operating systems and apps can be reinstalled. 
Unfortunately this is not the case when data is involved. It is important as well as best practice to back up your important data on a routine scheduled basis. 

Note: "Think of it this way. Backing up data is the cheapest and most reliable insurance that anyone who owns a computer can afford." 

Starting in mac mail; select one or more mailboxes.  



Select Mailbox in the upper tool bar.

Click on Archive Mailbox.



A Menu to select a destination folder will appear. 
Change the drop box to a desired location that is easy to remember for you.
Then click the new folder button below.


The 'New Folder' box will appear.
For best practice use a name in regards to the data being stored and add current date of backup.
Click create. 

Now we have a strong short term policy in place.

Backing up data and archiving data are often mistaken for one another. This is because they work so well hand in hand and share a common focus. 
Backing up is for disaster recovery. Archiving is for rapid access to years of work data. Consider backing up as a short term policy and Archiving is the long term policy.
Mac Mail allows you to archive your emails automatically to move email older than a specified time to a specified folder on your preferred external device or locally on your computer.


To start auto archiving click on Mail in upper tool bar and select Preferences. 



Select Rules and then click on the Add Rules button.





Set up the following rule to archive email older than 180 days or whatever best suits your needs.
Click Ok.
Click on the Apply button that pops up in order to run the rule on your Inbox. 
Note: "If You have a lot of email, this can take a few minutes."


Auto Archive is all set.


You can also archive your messages by content such as project, subject, sender, size, etc. by place your messages in content specific folders then archiving the folders manually. This method requires a little bit more time than automatic archiving, but it gives users more control over what/when items get archived. 

Click the [+] button on the bottom left hand corner of the screen.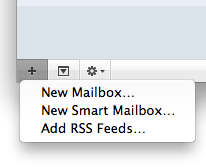 Select New Mailbox.



On the menu that appears next to the heading Location choose the option On My Mac, then enter in a name for the mailbox. 
Example: 'Archived Emails' Create as many folders as you require.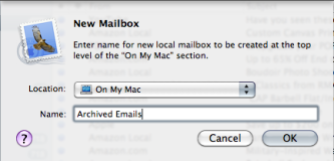 Drag e-mails from your Inbox into the newly created archive folder. 
Once your emails are in this folder they will no longer be on the server but will be permanently saved to your  external device or local hard disk.


If You have any questions or difficulties please contact us:
E-mail: Support@becotech.com
Phone: #8182764555 x2
- OR -
Submit Support Ticket